Contacts
Technical Secretary of the Network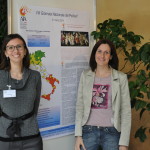 Members of the Technical Secretary of the Network are:
Dott.ssa Claudia Testoni (left),
Dott.ssa Manuela Ugolotti (right).
Cell. 3346382437
Fax 800910315
E-Mail
Registered Office
Studio commerciale Dott. Marchetti via delle Fonti 10/7 50018 Scandicci (FI) C.F. 92010460373 P.I. 04106880372
cforms contact form by delicious:days
This post is also available in: Italian
No comments yet
Sorry, the comment form is closed at this time.